Lyceum Theatre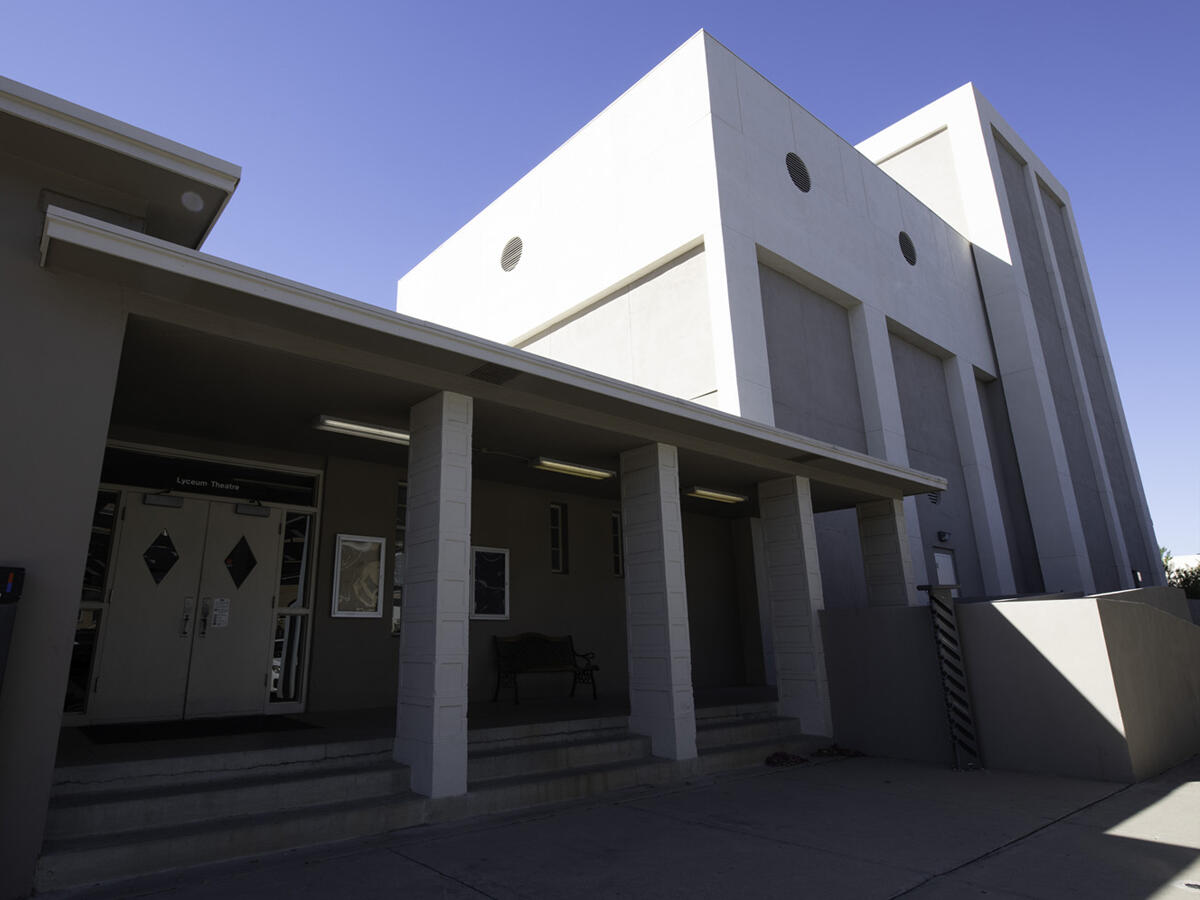 The intimate Lyceum Theatre is a modified proscenium space with 164 seats. It is the oldest and most historic performance venue on campus, with the original construction having been completed by the WPA. For several decades, the lobby space hosted the Office of the University President.
Now, ASU Theatre hosts several productions in the space each year. The theatre is located along Forest Ave and Tyler Mall. Patrons can park in the Fulton Center Parking Garage and cross University to enter the theater on the east side of the building. 
Technical Specifications
Stage Dimensions:
Proscenium height: 17' – 9"
Proscenium opening: 23' – 10"
Plaster line to back wall: 26' – 0"
Plaster line to downstage edge @ centerline: 11' – 9"
S.L. wing (off–stage wall to proscenium opening): 9' – 1"
S.R. wing (lock rail to proscenium opening): 5' – 9"
Length of battens: 28' – 0" (centered on stage centerline)
Length of batten extensions: 1' – 0"
Grid height: 44'
Out-trim of battens from deck: 41' – 7"
In-trim of both types of battens: 2' – 9" from deck
The proscenium theatre has 24 single purchase counterweighted line sets. The battens are 1.5" sched. D pipe. There are no dedicated electrics. The depth of the stage from plaster line to back wall is 26' – 0".
The loading door is on the back wall, centered on the centerline, is 10' – 1" wide, 11' – 11" tall. There are four additional doors, one up left, up right, down left and down right. The two upstage doors are standard commercial doors, allowing 3'–wide clearance and standard height. The two down stage doors are 2' wide. The loading dock is on the same level as the stage accessible through the scene shop. The wardrobe room and dressing rooms are one level down in the basement.
Seating
The Lyceum house seats 164 with handicapped accessibility. The last row of seating is 34 feet from the proscenium. All seating is in a continental configuration.
Scene Shop
Directly backstage, measures 24' x 43' with obstructions and includes a 10' wide by 11' – 1" high loading door connected to the loading dock.
Sound, Lighting, Rigging
The Lyceum is equipped with an ETC Element lighting console with 148 dimmers (2.4 kw); Crest Audio X4 sound board with Qlab digital playback. It is fully cat-walked and rigged with 24 line sets, including apron area for thrust stage.
Costumes
The Lyceum is equipped with a wardrobe maintenance room with laundry.