About the School of Music, Dance and Theatre
We are a community of learners—artists, educators, scholars, practitioners and activists—committed to ethical and equitable engagement in music, dance and theatre.
A message from Heather Landes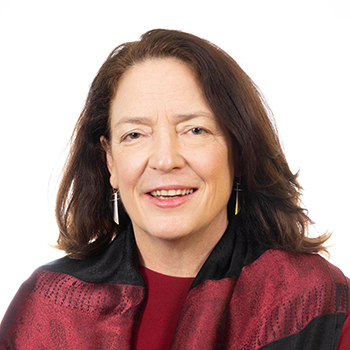 It is a pleasure to introduce you to the faculty and programs of the School of Music, Dance and Theatre.
We are committed to inspiring and empowering our students to become creative leaders who use their talents to enrich the communities in which they live. Our internationally recognized faculty artists and scholars are dedicated to being compassionate and motivating mentors on that journey.
We attract scores of talented musicians, dancers, actors and designers from nearly every state and abroad who bring a thirst for the arts, high performing standards and a drive for excellence that helps create an environment where you can excel and at the same time pursue your own individual passion and course of study.
Located in the culturally rich Southwest desert in one of the country's most vibrant, expanding urban centers, the ASU School of Music, Dance and Theatre affords its students not only access to this diverse environment but also engagement in Phoenix's diverse, flourishing arts community.
You can truly achieve anything you want here and be a part of a major research university that also nurtures, values and inspires creativity, innovation and excellence.
Our alumni's success as leaders, professional performers, designers, producers, public school educators, music therapists, arts administrators, university professors and composers underscores our reputation as one of the country's top schools of music, dance and theatre.
As you pursue this next phase of your education, we invite you to explore the ASU School of Music, Dance and Theatre where you will receive a world-class education and define yourself as an artist, scholar and leader.
Our Music programs trace their roots back over 100 years and are currently ranked among the top programs in the country. As one of the nation's most comprehensive music programs, our faculty are devoted to helping students develop flexible and specialized skills as inquisitive and creative thinkers with an entrepreneurial mindset necessary for success in the modern world.
Our Dance programs are nationally recognized as some of the best in the world, and our annual slate of guest artist faculty represents a collection of the most influential artists from the world of dance culture. Students will combine innovative learning in creative practice and choreography with rigorous technique in modern, post-modern contemporary, contemporary ballet, urban movement and more.
Theatre students are provided with a cutting-edge education that combines professional training in acting, design and production infused with devising processes and new work creation, professional development and digital technologies for design, production and interaction.
Mission
We are a community of learners — artists, educators, scholars, practitioners and activists — committed to ethical and equitable engagement in music, dance and theatre. As a School, we champion these disciplines as essential to the wellbeing of society, as means of knowledge development, and as foundational to the human experience. In all that we do, we grapple with the impact of the past, confront the needs of the present and forge the path to the future.
 The following questions illuminate our core values and animate our work:
How do we best prepare students to ethically contribute to music, dance and theatre?
What can we accomplish when we collaborate with those outside our disciplines and beyond the borders of our university?
How do we define, implement, embody, and expand equity and justice in music, dance and theatre?
What does excellence mean to us? How do we get there?
How do we make our disciplines, and ourselves in them, more sustainable?
History
The evolution of the School of Music, Dance and Theatre is a story of deep history and diversity of effort. Most recently, the Arizona Board of Regents approved the merger of the School of Music with dance and theatre in August 2020. Dr. Heather Landes, the school's current director, served as the inaugural director. In this new configuration, we offer the broadest exposure to all the performing arts disciplines in one innovative, wildly-productive central hub.
How did we get here?
The music program traces its roots back 100 years to the late 1800s when ASU was the Territorial Normal School. At the time, the Normal School acquired its first piano for $1,000, and began offering singing as a student activity. The first full-time professional music teacher was hired in 1902, and the first student band and orchestra were organized 13 years later. When the Bachelor of Arts degree in music first was offered in 1946, there were 25 students majoring in the field. Master's degrees became available in the late 1940s. During the early 1950s, the department was scattered throughout campus in 14 locations, including the home of one of its faculty members. By the time the original music building was completed in 1971, space already was at a premium. A long-awaited music building expansion was completed in 1992, which included two new state-of-the-art performance venues: Katzin Concert Hall and the Organ Hall, custom designed to house the now-famous Fritts Pipe Organ. The Department of Music received school stature in 1980, the same year that it began to offer doctoral degrees. Today, the music program serves more than 800 students who are pursuing bachelor, master and doctoral degrees in music.
The history of dance program goes back 77 years to classes in "interpretive dance," which were first offered by the department of physical education in 1931. The first mission was to bring modern dance to the university community. 1954 began the expansion and growth of both curriculum and faculty. Two undergraduate degrees were initiated and a student dance company was formed. In 1977, the dance program moved out of the jurisdiction of physical education and into the Herberger College of the Arts, renowned choreographer and dance artist Daniel Nagrin joined the faculty, and a Master of the Arts degree was initiated. The dance program enjoyed much national recognition for its esteemed faculty, celebrated choreography, innovative programs and guest artist residencies. The program further established its reputation for excellence in education, production and technology. In 2006, the program was featured in a cover story entitled "Innovation in the Desert" in Dance Teacher Magazine. The dance program merged with the School of Theatre and Film in 2012.
Theatre has been present on the ASU Tempe campus since 1920 when it was a component of the liberal arts program. In 1957, the department of speech and drama was formed in what was then called the College of Arts and Science. When the College of Fine Arts, now the Herberger Institute for Design and the Arts, was founded in 1964, the department of speech and drama moved to the new college as one of three units. In 1977, the department became the department of theatre to reflect its focus on performance, production and theatre education. Classes in film production and film studies have been offered since 1980. In 1990, the PhD in Theatre with a concentration in Theatre for Youth was approved to complement an existing MFA emphasis in that area. The PhD concentration in Theatre and Performance of the Americas was added in 2005. The film program began The Sidney Poitier New American Film School in August, 2020.
Students
---
11,000+
students from outside the School of Music, Dance and Theatre enroll in courses each year