Paul V. Galvin Playhouse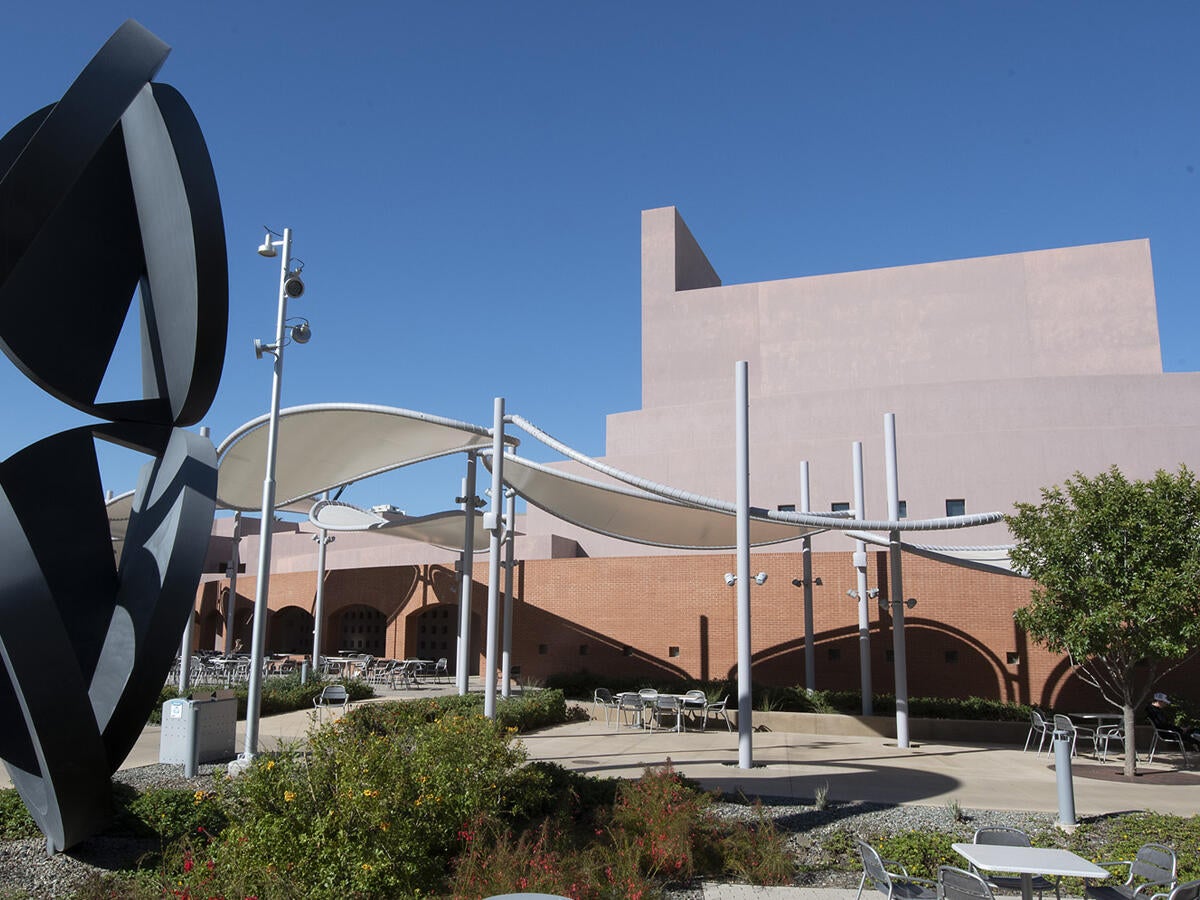 The beautiful Paul V. Galvin Playhouse Theatre is a proscenium theatre with continental seating and a capacity of 485 seats. Each seat provides an unobstructed view of the stage. The Galvin hosts many events and performances every year, including dance concerts, theatre productions, convocation events, speaker series, film screenings and more.
Housed in the J. Russell and Bonita Nelson Fine Arts Center, the Playhouse Theatre was designed by architect Antoine Predock as part of a 1985 design competition to commemorate Arizona State University's centennial celebration. 
Technical Specifications
Stage Dimensions: approximately 101' x 52'10"
Proscenium height: 25' – 0"
Proscenium opening: 39' – 6 1/2"(39' – 9 1/2" without baseboard)
Plaster line to back wall: 44' – 10 1/2"
Plaster line to downstage edge @ centerline: 7' – 11 1/2"
Plaster line to orchestra pit opening / elevator: 11"
S.L. wing (off-stage wall to proscenium opening): 37' – 9 1/4"
S.R. wing (lock rail to proscenium opening): 23' – 3 1/4"
Length of battens: 48' – 0" (centered on stage centerline)
Length of batten extensions: 4' – 0"
Grid height: 70'
Out-trim of standard battens: 67' – 2" from deck
Out-trim of truss battens: 63' – 1" from deck
In-trim of both types of battens: 3' – 3" from deck
U.S. edge of orchestra pit elevator: 25' – 0"
Width of pit elevator @ centerline: 7' – 0"
Greatest length of elevator (S.R. to S.L): 29' – 7 1/2"
The proscenium theatre has 40 single-purchase counterweighted line sets. Battens are 1.5" sced. D pipe, except lines 5, 10, 17, 24, 32, and 37, which are truss battens. There are no dedicated electrics. The depth of the stage from plaster line to back wall is 44' – 10 1/2" and includes 480 square feet of trap floor (removable in 4 by 8 foot sections) and an apron/orchestra pit with a screw jack lift.
The loading door leading directly into the scene shop is on the back wall, centered on the centerline, is 30' – 0" wide, 22' – 0" tall. There are four additional doors, up left, up right, down left, and down right. All but the up left door are standard commercial doors, allowing 3' – 0" wide clearance and standard height. The up left door can open to 11' – 6"wide clearance, and has a standard commercial width door within the large door. Access to the loading dock from the shop is via a freight elevator. The loading dock is one floor above the scene shop and stage level. Costume shop, dressing rooms, green room and trap room are one floor below stage level in the subbasement.
Seating
The house seats 481 (320 on main floor, 161 in balcony). The last row on the main floor is 43' from the proscenium and the last row in balcony is approximately 80'. The first five rows on ground are continental seating, the rest American. The house has excellent acoustics and clear sight lines throughout the house.
Lobby
The lobby serves both Galvin and Dance Laboratory. The lobby also includes box office and refreshment booth (serving both in lobby and outside courtyard).
Scene Shop
Directly backstage, measures 56' x 60' and includes a well and paint frame for painting scenery flats and drops, as well as oversized freight elevator connecting to loading dock and set storage area. Facilities allow for full wood, metal and plastic construction.
Sound, Lighting, Rigging
The Galvin Playhouse is equipped with an ETC EOS lighting console with 200 dimmers (2.4 and 6 kw); Yamaha M7CL sound board with Qlab digital playback. It is fully cat-walked and rigged with 40 line sets, including apron area for thrust stage.