Theatre degrees
Dream. Question. Engage. Transform. Create.
Welcome to your creative journey.
Build your skills as a compassionate, creative, thoughtful artist.

Gain hands-on experience in emerging performing arts roles and technologies.

Graduate prepared for a variety of contemporary job opportunities on and off stage.

Participate in the future of performing arts – here and now.
We are here to help you every step of the way!
The theatre program at Arizona State University is a leader in the development of consent-based, equitable and wellness-oriented working practices in the performing arts, with production processes designed to empower each student. From year one, each theatre student is paired with a faculty mentor so they are seen and supported. 
While in the program, our students gain real-world, hands-on experience in emerging fields and technology from intimacy coordination to digital design techniques to cutting-edge screen acting methods. Students in our program are uniquely positioned to realize their own creative vision, including serving in lead production, design and performance roles on the mainstage as undergraduates. At the same time, our BA programs educate the whole artist, preparing well-rounded artists with a deep grounding in the history of the performing arts, a strong liberal arts background and well-honed communication and critical thinking skills that enable them to move seamlessly into careers within and beyond the performing arts. 
When they graduate, our theatre students are not only ready for a career in arts – they are ready to transform the future of the arts through principled leadership and well-honed creative problem-solving skills. They leave ASU knowing their own vision and values, with the tools to succeed in the industry as well as to lead the changes our industry is excited to see.
Join engaged students who are:
Collaborative storytellers prepared for a variety of career paths within and beyond the performing arts.

Well-rounded artists empowered to transform the future of the arts.

Ethical creators who engage with others and the world around them in thoughtful ways.
Experience abundant creative opportunities
Our season features large-scale productions, classical theatre, experimental and contemporary plays, readings of student-generated work and student-produced plays. There are ample opportunities each year to get involved, whether you want to expand on existing skills or to learn new things. Students can also gain experience in a variety of art forms including theatre, musical theatre, theatre for youth, dance, movement, opera, virtual reality, animation, fashion, television and film.
Theatre undergraduate degrees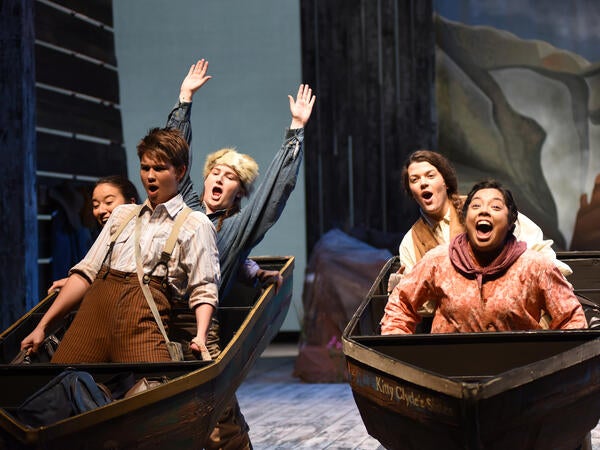 What you can expect in this program:
Developing marketable skills in creative problem-solving

Taking on major creative roles as an undergraduate

A wide variety of opportunities across multiple performing art forms

Individual faculty mentorship and specialized degree pathways to fit your needs

Support in creating a professional portfolio and building your brand as an artist

Collaboration with other artists to solve creative challenges 

Wellness-focused curriculum and a community of care

Opportunities to work with leading contemporary artists 

Design and performance practices that guide the future of the industry

Critical thinking at the heart of the curriculum
Visit us
Interested in theatre at ASU? Come take a tour of campus. You can see our incredible facilities, meet faculty and students or even sit in on a class. It's a great way to learn more about our programs.