Ensembles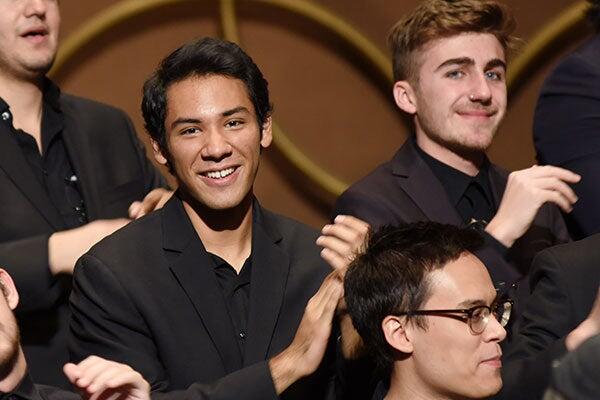 Barrett Choir
The ASU Barrett Choir is a singing community of friends who appreciate having choir as a creative outlet. We bring an unusual level of curiosity and a unique perspective to everything we do. We sing for the sake of singing, and while our rehearsals are informal, we care deeply about the music, one another, and giving high-quality performances. Many of the members are students in Barrett, the Honors College (and earn honors credit for their participation), but any motivated student from the university is welcome to join. Members play an important role in all aspects of the choir's work, from choosing repertory to organizing social events to day-to-day musical decisions. We generally give two concerts each semester. One program each year is a pops concert made up mainly of student-organized solos and small ensembles. Rehearsals and performances share the joy and delight of making music together.
Joining: New members have a brief hearing for the conductor at the beginning of the semester. This involves singing simple vocal patterns, pitch-matching, and singing a familiar song like "Happy Birthday." The purpose is mainly to determine the most appropriate voice part for you to sing in the choir. Email David Schildkret to arrange a hearing time.
MUP 459
1-2 credits (sign up for 2 credits if possible)
Tuesdays and Thursdays
4:30–5:45 p.m.
Gammage 301
All ASU choirs accept new members for the spring semester. Please contact the director of the ensemble that interests you to arrange an audition.