Ensembles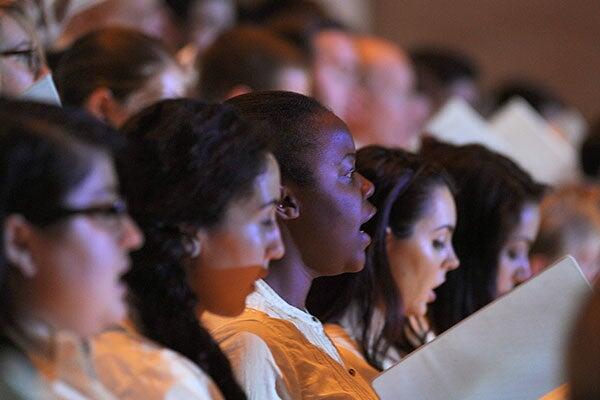 Choral Union
The ASU Choral Union is an intergenerational ensemble of people united in a common love of singing large-scale works for chorus and orchestra. These ASU students, faculty, alumni, staff members and residents of the Phoenix metropolitan area are curious, life-long learners. Singing in the choir helps members to improve their vocal, musical, and expressive skills; their knowledge of languages; and their understanding of culture and its impact on music. The choir approaches pieces with religious texts with respect for all viewpoints and seeks to understand the composer's attitudes. Weekly rehearsals take place from August through April, and performances take place once or twice a semester, frequently in ASU's historic Gammage Auditorium.
Joining: New members have a brief hearing for the conductor at the beginning of the semester. This involves singing simple vocal patterns, pitch-matching, and singing a familiar song like "Happy Birthday." The purpose is mainly to determine the most appropriate voice part for you to sing in the choir. Email David Schildkret to arrange a hearing time.
Community members are welcome to join!
Undergraduates: MUP 450
Graduates: MUP 550
1 or 2 credits (sign up for 2 credits if possible
Mondays
7:30–9:15 p.m.
Gammage 301
All ASU choirs accept new members for the spring semester. Please contact the director of the ensemble that interests you to arrange an audition.