Ensembles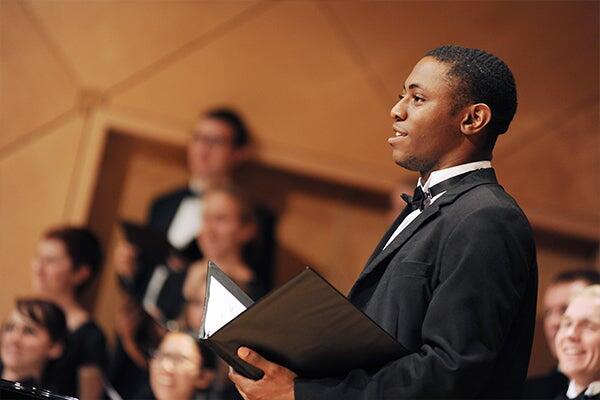 Concert Choir
The ASU Concert Choir is the premiere choral ensemble at the Arizona State University Herberger Institute for Design and the Arts. With a mixed-voice membership predominantly made of graduate and upper division undergraduate students, this ensemble is composed of our most advanced choral musicians on campus. The Concert Choir performs literature from a vast spectrum of languages, styles, and time periods meant to cultivate globally-minded musicians able to succeed in a diverse array of musical contexts. The ensemble strives to engage in practices rooted in culturally responsive collaboration, community engagement and service, and musical excellence. The Concert Choir often represents the university in local, regional, national, and international contexts.
 
Undergraduates: MUP 443
Graduates: MUP 543
1 or 2 credits (sign up for 2 credits if possible
Monday, Wednesday and Friday
1:20–2:45 p.m.
EB2-94

Membership in the ASU Concert Choir is by audition and open to all students, regardless of major. For audition information visit choral auditions.