Ensembles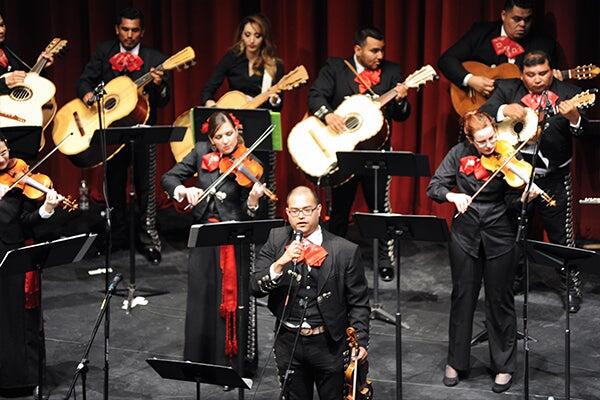 Mariachi
The ASU Mariachi Ensemble in the ASU Herberger Institute School of Music, Dance and Theatre began in 1985. The purpose of this ensemble is to teach the style and performance practices of the folk music tradition. As members of the ensemble, students and community members use the traditional instrumentation: violin, flute, trumpet, vihuela, guitar, and guitarrón. Vocalists are welcome to enroll and will also play an instrument within the ensemble.
Traditional mariachi genres, including the son, huapango, corrido, ranchera and polka, as well as modern genres are performed with some pieces learned by ear and others using scores.
Participants should be able to read music and play a traditional Mariachi instrument, or other compatible instrument (with instructors' permission). Contact the instructor(s) if you are not sure whether your playing level is appropriate for the mariachi.
For questions or more information, please contact Scott Glasser at sglasser@asu.edu
Community members and advanced high school students are welcome to join the ASU Mariachi Ensemble!
Undergraduate: MUP 489 Topic: Mariachi
Graduate: MUP 587 Topic: Mariachi
1 credit
Mondays
7:15–9 p.m.
Music W218
Rehearsals begin Aug. 22
An audition is not required for this ensemble.