Ensembles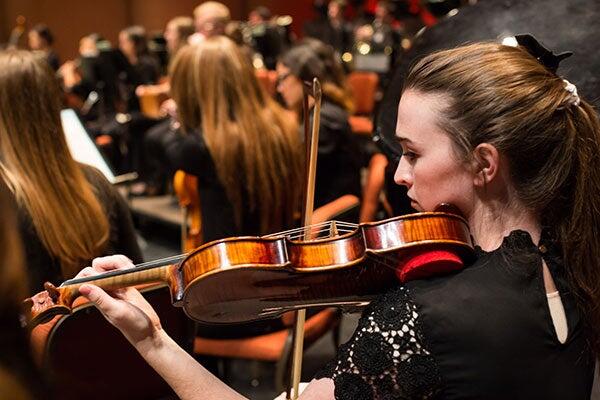 Philharmonia
The ASU Philharmonia provides its members an engaging and vigorous orchestral experience for both music and non-music majors. Led by music director Julie Desbordes, the orchestra serves its music majors by providing them important foundational orchestral experience with a deep variety of repertoire and serves its non-music majors by providing them an opportunity to continue their orchestral playing at the college-level, expanding their knowledge and enjoyment of advanced repertoire and playing alongside pre-professional players. The Philharmonia is committed to advancing diversity and equity through its programming, guest artist interaction, multi-disciplinary collaboration, and community engagement.
The ensemble performs at least two programs each semester and meets twice weekly. Membership in the Philharmonia is by audition and open to all musicians.
Community members are welcome to join!
Undergraduates: MUP 442 Topic
Graduates: MUP 542 Topic
1 or 2 credits
Tuesdays and Thursdays
4:30 - 5:45 p.m.
Gammage 311
Audition instructions, schedule and excerpts
Fall semester starts with placement auditions. Please prepare two contrasting excerpts of your choice (any genre, composer, style). You will also have a sight-reading excerpt to play during the audition. Contact Julie Desbordes for additional information about auditions.