Ensembles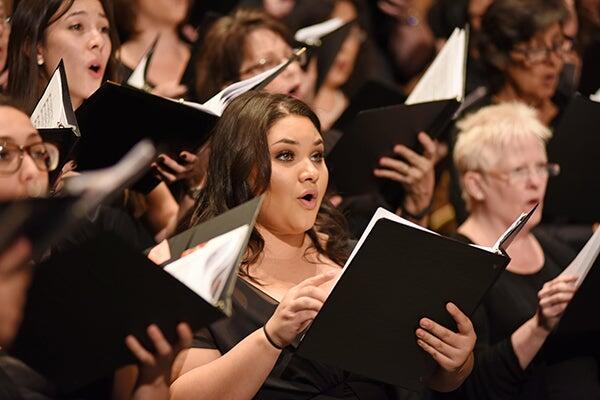 Sol Singers
The Sol Singers is a soprano-alto choir that brings people together to create music that is inclusive, informative, and a catalyst for friendship and community. We all come from different backgrounds, making it the perfect group for all students at ASU who want to participate in a choir regardless of major or background. We strive to improve the musical proficiency of every member in areas such as music reading, vocal technique, and musical expressiveness. While we are primarily a class, the club aspect of our ensemble fosters a sense of student-fed engagement that is tight-knit yet welcoming. Sol Singers typically presents two concerts each semester, including opportunities to collaborate with other ASU ensembles and area arts organizations, such as Ballet Arizona.
Joining: New members have a brief hearing for the conductor at the beginning of the semester. This involves singing simple vocal patterns, pitch-matching, and singing a familiar song like "Happy Birthday." The purpose is mainly to determine the most appropriate voice part for you to sing in the choir. Email Teresa Murphy to arrange a hearing time.
Community members are welcome to join!
Undergraduate: MUP 457
Graduate: MUP 557
1 or 2 credits ((sign up for 2 credits if possible)
Mondays and Wednesdays
4:30–5:45 p.m.
Gammage 301
All ASU choirs accept new members for the spring semester. Please contact the director of the ensemble that interests you to arrange an audition.