Ensembles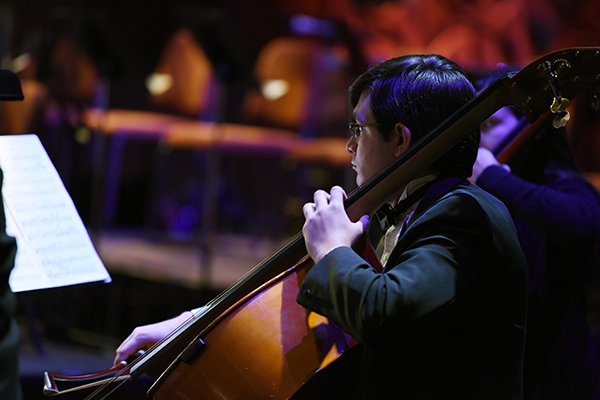 Symphony Orchestra
The ASU Symphony Orchestra provides its members with intensive orchestral training and professional level artistic performance experience. Led by Jeffery Meyer, director of orchestras, the ASUSO performs challenging and diverse repertoire chosen to help emerging professional musicians develop a wide range of skills and aptitudes. Rich concert programming offers audiences and the greater arts community opportunities to engage with major works of the orchestral canon as well as cutting-edge works of our time. Exploring the full creative range of the contemporary symphony orchestra, the ASUSO seeks to perform canonical works with technical excellence and artistry while also pushing musical boundaries through innovative multi-disciplinary collaborations.
The ASU Symphony Orchestra aims to extend student learning through rich interactions with professional artists. ASU faculty are closely involved with their students' orchestral experience and regularly lead orchestral sectionals. The ASU orchestras also maintain a vibrant relationship with the Phoenix Symphony with frequent guest artist visits in both sectional rehearsals and side-by-side rehearsal contexts.
Membership in the ASU Symphony Orchestra is by audition and open to all high-level musicians.
Undergraduates: MUP 442
Graduates: MUP 542
1 or 2 credits
Mondays, Wednesdays and Fridays
1:25 - 3:20 p.m.
Gammage 311